CWG 2022: Sakshi Malik Journey to Gold Medal At Birmingham. Details Inside!!
Breaking News! Famous Indian wrestler Sakshi Malik won the gold medal by defeating Ana Paula of Canada in the women's 62kg category at the CWG 2022.
Sakshi's third medal at the Commonwealth Games; she also won silver in 2014 and bronze in 2018. But this time she won the gold medal with a good performance. Although the final match was not easy, we know everything we should know here!!
How does she win the medal At CWG 2022?
Indian wrestler Sakshi Malik won the country's third-day freestyle wrestling medal at the ongoing 2022 Commonwealth Games in Birmingham on Friday by defeating Ana Paula Godinez Gonzalez in the final of the women's 62kg freestyle category. On her victory, PM Modi praises her by sharing a tweet:
Canada's Gonzalez initially dominated the match by taking a 0-4 lead in the first period. Then, in the second period, Malik made a full comeback to level the score at 4-4 and won the match by fall. The match lasted 3 minutes and 47 seconds.
Malik defeated Eten Ngole of Cameroon 10-0 based on technical superiority to reach the final. Sakshi Malik defeated Kelsey Barnes of England 10-0 in the women's 62kg freestyle quarterfinals to enter the semi-finals.
Other updates:
Earlier, Indian starfighter Bajrang Punia won a gold medal for India on Friday after winning the final against Canada's Lachlan McNeil in the men's 65kg at the ongoing 2022 Commonwealth Games in Birmingham.
Punia was very impressive in the first round and didn't allow his opponent to score; he also finished with a 4-0 lead over McNeil at the end of the first period. Wrestler Anshu Malik also won a silver medal in the women's 57kg freestyle category at the 2022 Commonwealth Games after losing to Nigeria's Odunayo Folasade Adekuroye at Coventry Arena Wrestling Mat-B on Friday.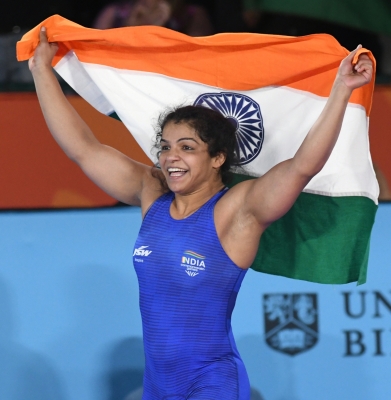 Generally, Malik suffered a 3–7 loss against Nigeria's Adekuoroye in the gold medal match. Malik secured the first medal for India in freestyle wrestling at the ongoing 2022 Commonwealth Games. Wrestler Deepak Punia will fight for gold against Muhammad Imam of Pakistan later tonight. The 2022 Commonwealth Games will kick off in Birmingham from July 28 to August 8.
About Sakshi Malik Early life:
Sakshi Malik is an Indian wrestler from Haryana; she was born on September 3, 1992, in Mokhra village of Rohtak district, Haryana. Her father's name is Sudesh Malik, and her mother is Saroj Malik. Sakshi started learning wrestling at the age of 12 from her father, who was himself a wrestler. In 2008, she went to study at the Maharshi Dayanand University in Rohtak.
Sakshi made her international debut at 18, at the 2010 Commonwealth Games in Delhi, where she won a bronze medal in the 58 kg category. She then represented India at the 2014 Asian Games in Incheon, South Korea, where she won a bronze medal in the 62 kg category.
At the 2016 Summer Olympics in Rio de Janeiro, Brazil, Sakshi became the first Indian woman wrestler who wins an Olympic medal when she won the bronze medal in the 58 kg category. She defeated Kyrgyzstan's Aisuluu Tynybekova in the bronze medal match. Sakshi is currently ranked 10th in the world in the 58 kg category by the United World Wrestling (UWW). And now, by winning the gold medal in CWG 2022, she has created history again.
Sakshi Malik inspires many young girls who aspire to become wrestlers and make a mark for themselves in the world of wrestling. Also, she has shown that anything is possible with hard work and dedication. We hope this article was helpful if you wanted to learn more about Sakshi Malik. Stay tuned for more such articles!