Kai Havertz Arsenal Contract, Salary Per Week & Transfer Fee: Kai Havertz, a star player for Chelsea, is supposedly ready to make a big move to Arsenal, and we already know his salary and transfer money.
Here is everything you need to know about the personal terms that Fabrizio Romano claims the two parties have previously agreed upon.
This projected change, which ends Kai Havertz's three-year employment at Stamford Bridge, is apparently the result of him being the driving force behind it. He is 24 years old. According to reports, he will soon sign a lucrative contract for £200,000 a week.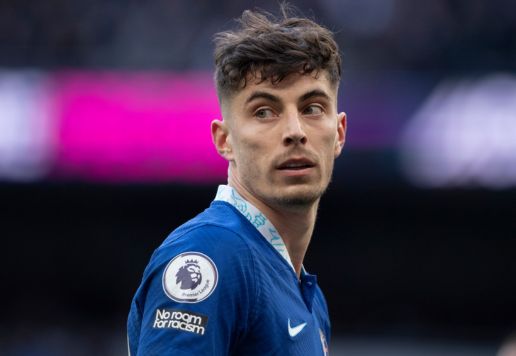 The transfer of the German midfielder to Arsenal is expected to cost the Gunners about £68 million (€80 million), according to Florian Plettenberg's sources.
A new stage in Arsenal's Development
This evaluation is thought to have received the manager of Arsenal, Mikel Arteta, the nod of approval, making Havertz an essential acquisition for the 2023–24 campaign. The club will play Nottingham Forest in its first game of the new campaign.
Marc Cucurella and other prominent players, including Havertz, may be on the verge of leaving Stamford Bridge as well. Chelsea, on the other hand, seems to be ahead in the battle to sign Moises Caicedo.
Bundesliga champions fall behind the competition
Bayern Munich reportedly indicated interest in arranging a deal for the former Bayer Leverkusen sensation. This interest in acquiring Havertz's talents also came from Bayern Munich. Their aspirations were shattered, nevertheless, as it appears that the negotiations between Havertz and Arsenal are "too advanced" for Bayern Munich to listen in on.
Havertz was originally identified by SunSport as one of the five players they might sign to end Arsenal's nearly two-decade-long Premier League title drought.
Chelsea's upcoming tactics
It appears that Mauricio Pochettino has identified a suitable alternative for Havertz. He has exercised Nicolas Jackson of Villarreal's £30 million release option because he is interested in the 21-year-old. Additionally, there are speculations that Chelsea and Tottenham discussed making an unexpected approach to sign Harry Kane.
Chelsea has opted against signing Andre Onana and is currently concentrating on a group of three goalkeepers while some plans are being reconsidered.
The unexpected signing of Kai Havertz by Arsenal will undoubtedly alter how both teams perform in the Premier League the following year. The outcome of this transaction and how it will impact both teams' ambitions are still unknown.
Read Also – Folarin Balogun Contract, Net Worth, Salary
Follow Us
[DISPLAY_ULTIMATE_SOCIAL_ICONS]