Indian Premier League 2022 (IPL) is about to start from 26, March in four different venues in Maharashtra. Fans are excited for the encounter between best vs best. With two new teams, this season will be more excited and more entertaining. IPL has one more thing for which fans are always curious. That is the unveiling of a new IPL jersey by each franchise. This year also all the franchise released their jersey before the IPL. Check Ranking the Jersey all Teams of IPL 2022.
Revealing IPL jerseys before every season is much awaited, fans buy the replica jersey of their favourite teams. Ahead of the IPL, here we are taking a look at the jerseys of each team. And will rate the new IPL kits out of 10. The list is going from best to least. The rating is given on the basis of personal preference and taste. So, the opinion me differ from your opinion.
Ranking the Jersey all Teams of IPL 2022
1. Royal challengers Bangalore (RCB): 9.5/10
RCB never disappoint the fans whether it's in the field or out of the field. They have the most adorable jersey with a combination of bright red and black colours. The presence of the sponsor's logo with perfect font and size is giving a fantastic look to the jersey.
2. Gujarat titans: 8.5/10
New franchise Gujarat chooses a blue colour for their jersey which is looking decent with the colour combination of light blue with dark. Overall Gujarat titans' jersey is a typical IPL jersey. Comparing others it deserves to be on number 2.
3. Kolkata knight riders ( KKR): 7.5/10
Kolkata knight riders come with trademark purple colour. They have a combination of purple and yellow colours. KKR is the only franchise with purple colour, due to which they look different in comparison with other teams.
4. Mumbai Indians: 7.5/10
Mumbai also comes with its trademark blue colour. Mumbai has shades of different types of blues. The combination of gold and blue gives a decent look to the jersey. And sponsor logos in white looking good. Which make the jersey to be on number 4.
5. Chennai super kings (CSK) : 7/10
Chennai super kings are going with traditional yellow colour. They have a combination of yellow and blue colours and a lion logo on the T-shirt. The camouflage strips on the shoulder make the whole jersey looks different.
6.Sunrisers Hyderabad (SRH): 6.5/10
Orange army, as usual, going with orange colour. They have bright orange colour in the jersey with black colour on the shoulders. They had black colour before also, but this time they reduced the amount of black colour from the jersey.
7. Delhi Capitals (DC) : 6/10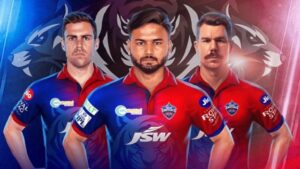 In last season Delhi had a complete blue jersey, but this season with blue they have an equal amount of red colour on the jersey. The combo of red and blue looks a bit odd but overall it is looking quite decent.
8. Punjab kings: 5.5/10
Punjab kings have bright red colours on the jersey. Making the jersey bit odd and not so good. They have many sponsor logos with different colours on the jersey.
9. Lucknow super Giants: 5/10
New franchise Lucknow super Giants, choose a very different colour light blueish with a green hue. Also has minty shades which are difficult to spot in the day.
10. Rajasthan Royals : 4.5/10
The only team with a pink colour jersey Rajasthan Royals, design their jersey by taking inspiration from Rajasthani design lehraiya. The jersey shows the wind blowing in the desert. The unorganised logos give odd to the jersey.
Follow Us
[DISPLAY_ULTIMATE_SOCIAL_ICONS]