Table Tennis Player Sharath Kamal World Ranking, Net Worth, Age, Father, Wife, Height, Family All You Need To Know
Achanta Sharath Kamal was born on 12 July 1982 in Chennai, Tamil Nadu, India. By profession, he is a professional table tennis player from Tamil Nadu, India. He is the first Indian table tennis player ever to become nine times Senior National Champion. Check Table Tennis Player Sharath Kamal World Ranking.
He completes his education at the Padma Seshadri Bala Bhavan, Chennai, India, and then he visits College Loyola College, India.
Sharath took up table tennis when he was just 4-years-old. His father and uncle introduced him to the game and have been his coaches for a significant period of time. They not only taught him the technicalities but also shaped him as a tough and grounded sportsman.
Check out information on his Net Worth, World Ranking, Family, and other relevant information on him.
Sharath Kamal Biography
| | |
| --- | --- |
| Full Name | Sharath Kamal Achanta |
| Age | 38 years |
| Sport Category | Table Tennis |
| Date of Birth | 12-Jul-82 |
| Hometown | Chennai, Tamil Nadu |
| Height | 1.87 m |
| Weight | 82 kg |
| Coach | Srinivasa Rao (L) & A Muralidhara Rao |
As a kid, Sharath was a little short on patience (just like most kids). So he always expected to win, did not take defeats in his stride, and couldn't handle his frustration which led to some severe outbursts.
This is where the mental conditioning of his father and uncle played a huge part. His uncle made some strict rules for Sharath. He learned to deal with his frustration without displaying it to his opponent.
ALSO CHECK: Top 10 ranked Most Popular Sports in The World
Sharath Kamal Family
Kamal states that his entire family including his mother Annapurna has supported him in his table tennis journey. He was born in a wealthy family in Chennai, Tamil Nadu. His father Srinivas Rao is also a table tennis freak.
Sharath Kamal is married to Sripoorni Sk. Sharath and Sripoorni are blessed with a daughter and a son. Their family looks adorable together.
Sharath Table Tennis Career and World Ranking
Sharath is a B.com graduate from a college in Chennai. Sharath's first table tennis coach and inspiration was his father Srinivas Rao only. Later on, his uncle also started training Kamal.
At the age of 16 years, Sharath Kamal entered the professional table tennis world. By 18 years of age, he was a known name in the state championships.
He has made India proud by conquering gold at the 2004 edition of the commonwealth table tennis championship. His career took other heights after this commonwealth win. Later on, Kamal participated in the 2006 commonwealth games and won gold again for his country.
Today he has a career decorated with a number of international awards. In the Beijing Olympics, he was the only table tens player from India.
Sharath Kamal Achanta has a world ranking of 32. He beat Joo Se Hyuk and Chuang Chih-yuan, world no. 8 and 16 respectively in the 2015 28th Asian cup at Jaipur. Sharath won the men's singles gold in the 16th Commonwealth table tennis championship held at Kuala Lumpur in 2004.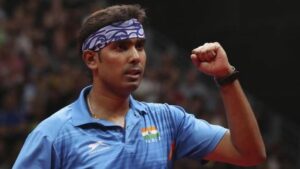 Sharath Net Worth
His net worth has been growing significantly in 2020-2021. Sharath Kamal's income source is mostly from being a successful Player.
He is from Indian. His net worth is estimated to be between $1-5 Million. It is expected to increase in the coming years