Bangladesh ODI's skipper Tamim Iqbal backed playing on sporting wickets despite the risk of home losses, as he felt this was the best way for the team to develop. Bangladesh lost their first ODI series at home after seven successive series wins, following England's 132-run victory in Dhaka that helped them take an unassailable 2-0 lead in the three match series.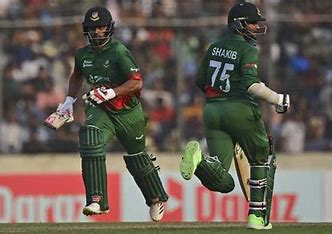 Since November 2014, Bangladesh have lost only two out of 15 bilateral ODI series at home, with both losses coming against England – in 2016 and in this series. But unlike the past, Bangladesh did not opt for rank turners that brought them success against big teams at their own den, instead choosing sporting wickets for this series as preparation for the 50-over World Cup later this year, which is expected to be played on batting-friendly tracks.
Tamim, the Bangladesh captain, said he won't lose his sleep over the loss on a wicket that had something for both bowlers and batters, insisting that it will reap dividends in the long run.
When I talked about true wickets, I said that we can't be result-oriented all the time. When we win games in Bangladesh, it doesn't mean that we have to win on bad wickets, we also have to win on true wickets. When you are trying to change these things, many things will happen – you will win and lose – and you have to take them as part of the process," Tamim said on Friday (March 3) after the series loss to England.
Jason Roy's 124-ball 132 and Jos Buttler's 76 off 64, along with cameos from Moeen Ali and Sam Curran, powered England to a sizable 326/7 in the second ODI. Bangladesh had their moments with the ball – first they had England at 96/3 and following a 109-run fourth wicket stand involving Roy and Buttler, the hosts bagged quick wickets to leave England at 260/6. But they weren't able to quite deliver in the death, which meant that England breached the 300 barrier.
"I think we bowled badly in the first three to four overs and I felt that we could not bowl well though there was help from the wicket," noted Tamim. "We thought the pitch was a bit tricky. But if you can't bowl in the right areas, it does not matter how tricky the pitch was, as there will be runs. Also, we have to give credit to them for their batting."
Bangladesh struggled in the chase as they were bowled out for 194, with only Shakib Al Hasan managing to cross 50. Tamim said the home-team batters need to apply themselves, citing the examples of Dawid Malan and Roy who scored centuries for England in this series.
"I am not concerned about batters getting out early, it's part of the game. But when you reach 30-40, you should make it big. Look at England, someone (Roy) scored 130 today, and someone (Malan) scored 120-ish in the first match. We are lacking there. Any batter can get out early but if you get a start, you need to make it big which we could not do.
"I think when you lose three wickets inside three overs, you are always in trouble," added Tamim.
Meanwhile, England opener Roy said he was hungry to score runs after making a silly mistake in the opening game against Bangladesh at the Sher-e-Bangla National Stadium. Roy, who scored only four runs in the first ODI, made up for it in the second game with his 12th ODI hundred, which included 18 fours and a six.
"Every single time it means the world (scoring a hundred). I worked hard to right my wrongs from the first match. I made a silly mistake then, and I was hungry to make some runs," said Roy. "I have realised that very quickly once I stuck that one up in the air in the first game. The way Malan went about his innings, I quickly realised to switch on, put my head in and bat some time."
Roy, who hailed his partnership with Buttler, said it involved a lot of hard work. "There are some hundreds in the past – when you get to 40, and you feel really free-flowing. Every boundary (here) was a scrap. I built a great partnership with Jos. We ticked over nicely. Every place poses a completely different skillsets. None more so like here.
"I have scored runs in India. As far as skillset as a batsman (is concerned), to score runs in these sorts of conditions is as rewarding as it can get. I am very happy to score. The amount we scored today on that wicket in a series-defining match was awesome," he said.
The ongoing second ODI between England and Bangladesh was witness to a hilarious moment, where the Bangla Tigers decided to opt for a rather strange review. This incident took place on the last ball of the 47th over. Here Taskin Ahmed bowled a zooming yorker which was aptly blocked away by Adil Rashid.
Despite clearly seeing the ball hit Rashid's bat, Ahmed decided to go to the Decision Review System and appeal for LBW. So far in that over, Ahmed had conceded nine runs and also dismissed Moeen Ali at the score of 42 in 35 balls. Like a lot of us, Rashid was also equally confused with this review.
Further talking about the England innings, the Three Lions continued their aggressive approach and posted a massive total of 326. The star of this batting showcase was opener Jason Roy, who scored a brilliant knock of 132 runs in just 124 balls which included 18 fours and one six. After Roy, the middle order failed to perform.
After this mini-collapse, England's white-ball captain Jos Buttler stepped up to score a crucial 76 in 42 balls. He smashed five fours and two sixes and recused England after a middle-order muddle. Then Moeen Ali also contributed with another important 42-run knock where he hit three fours and two sixes.
Talking about Bangladeshi bowling, the hosts failed to capitalise on England's mishaps throughout the first innings. Despite his horrendous review, Taskin Ahmed was the pick of the bowlers as he picked up three wickets while giving away 66 runs in his 10 overs. Whereas Mehidy Hasan Miraz picked up two wickets but gave 72 runs.