The talent found at quarterback in today's NFL is more exciting than ever. The Arizona Cardinals' Kyler Murray, Baltimore Ravens' Lamar Jackson, Buffalo Bills' Josh Allen, Cincinnati Bengals' Joe Burrow, Kansas City Chiefs' Patrick Mahomes and Los Angeles Justin Herbert are all currently 26 or younger.
Those names comprise 60 percent of this year's top-10 quarterbacks for the 2022 campaign. The old guard isn't ready to step aside, though. The GOAT still roams the field, while a four-time league MVP is ready to make adjustments.
Distinguishing between these immense talents can be difficult. In certain cases, nitpicking is all that separates who projects as a slightly better player this fall. But it's important to understand this is a projection based on what should happen during the upcoming season while factoring in each situation.
On the field, Deshaun Watson is one of the league's most gifted quarterbacks, but he's suspended for 11 games. In Denver, Russell Wilson is in a brand new setup where he must adjust after a down season. Neither made the list.
In fact, no quarterback on a new team did. Stability is important since an adjustment period usually occurs, even for the likes of Tom Brady and Matt Stafford, despite their success in Year 1 with their current squads.
The present and future are blindingly bright for the talent playing behind center. In a quarterback-driven league—which becomes more true with each passing year—the following are the 5 best every time they step into the stadium.
5. Kyler Murray, Arizona Cardinals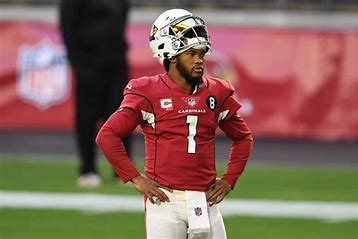 Imagine how high Kyler Murray would rank on this list if he actually studied the game. All joking aside, Murray looked like an early MVP candidate last season when the Arizona Cardinals jumped out to a 7-0 start. Ultimately, an ankle injury cost him three games, and the team regressed over the second half of the campaign.
Still, the 25-year-old's combination of dazzling downfield passing and electric creativity when working outside of structure, particularly as a runner, make him a difficult matchup for opposing defenses. Last season, Murray graded as the game's best deep passer, according to Pro Football Focus.
"Murray ranked top-10 in completion percentage, yards per attempt, passer rating and yards on passes thrown 20 or more yards downfield, notably leading starting quarterbacks in PFF grade on those throws," Bryant Horn wrote.
4. Dak Prescott, Dallas Cowboys
What quarterback orchestrated the NFL's No. 1-ranked offense last season? No, it wasn't Tom Brady, Patrick Mahomes or Josh Allen, though all three will appear on this list here shortly. The Dallas Cowboys led the league at 407 yards per contest. Simply put, Dak Prescott doesn't get enough credit for the caliber of player he's become.
In Prescott's last 21 games as a starter—which includes the injury-shortened 2020 season and 2021 campaign—he's averaged 300.2 passing yards per game and thrown for 46 touchdowns. Tom Brady is the only quarterback to throw for more yards on a per-game average in his last 21 starts.
According to ESPN, Prescott is "the first player in NFL history with 140 passing touchdowns and 20 rushing touchdowns in his first 85 career games."
That Prescott is a former fourth-round pick sometimes sullies his reputation because he's not seen as a fantastic talent in any specific area. But the 29-year-old doesn't need to be. His consistency, toughness and leadership qualities allow him to continually produce at a high level.
3. Matthew Stafford, Los Angeles Rams
Things couldn't have gone better for the Los Angeles Rams after the organization made the bold decision to trade starting quarterback Jared Goff and multiple draft picks, including two first-rounders, for Matthew Stafford.
A Hollywood ending ensued for the 2009 No. 1 overall draft pick. After years of toiling in a directionless franchise, the Rams captured a Super Bowl victory with Stafford at the helm. In doing so, the 13-year-veteran set career-highs in pass attempts (741), passing yardage (6,074) and passing touchdowns (50) for a single season (including the postseason).
Stafford completed Sean McVay's offensive scheme. The 34-year-old entered the league with explosive arm talent and has been able to make ridiculous off-platform throws for years. He simply didn't get the level of recognition he deserved because of where he played and being forced to carry a usually mediocre-to-bad roster.
In Los Angeles, Stafford expanded the offensive scheme thanks to his passing ability and understanding of the game.
2. Lamar Jackson, Baltimore Ravens
The NFL clearly has Baltimore Ravens quarterback Lamar Jackson figured out, right? Every narrative used to downplay Jackson's status as an outstanding quarterback has been proved wrong along the way, and he deserves recognition for how good he really is.
Some will automatically argue that Jackson is coming off an injury-plagued campaign with a 16-to-13 touchdown-to-interception ratio without taking into account the outrageous amounts of turmoil the roster underwent last season.
In total, 18 players—including left tackle Ronnie Stanley, Pro Bowl fullback Patrick Ricard, defensive lineman Derek Wolfe, cornerbacks Marlon Humphrey and Marcus Peters and running backs J.K. Dobbins, Gus Edwards and Justice Hill—found their way to season-ending injured reserve.
"All told, the Ravens racked up 191.2 [adjusted games lost]," Football Outsiders' Scott Spratt noted. "It was the most by a team in our database, and it remains the most when prorated to 16 games."
Despite the heavy losses, Jackson was well on his way to setting career-highs in passing attempts and passing yardage before suffering an ankle injury that cost him the final five games. The 25-year-old quarterback has taken more control of the offense with each passing season.
But what can he do when he's forced to throw?
1. Tom Brady, Tampa Bay Buccaneers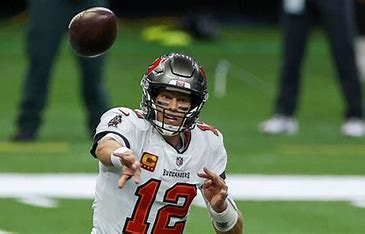 There can be only one, and Tom Brady is the NFL's version of the Highlander. He is immortal. He's never going to stop playing football. He may need a break from the sport for a short period, but the idea he'll permanently retire now seems quaint.
Why would even he consider truly stepping away from the game when he's playing as well as ever has well into his 40s? Unbelievably, the 22-year veteran set career highs last season with 485 completions, 719 pass attempts and 5,316 passing yards. Granted, those numbers came during the league's newly formatted 17-game season, but they're still staggering, considering he did it at 44 years old.
"You still need Brady's mind to make it work," an NFL personnel evaluator told ESPN's Jeremy Fowler. "His ability to manipulate defenders with his eyes, anticipate and throw with location is still the best."
Slight regression should be expected because surpassing those career-highs in two straight seasons is asking far too much. From a roster standpoint, Brady is a pure pocket passer and always struggled with consistent pressure, particularly when it collapses the pocket's interior.