The Three Greatest Cricket Matches Ever Played on Reserve Days: The Indian Premier League (IPL) 2023 championship game, which was originally slated to take place on Sunday, May 28, will now be played on Monday's reserve day.
Chennai Super Kings (CSK) and Gujarat Titans (GT) were not able to play their scheduled match at the Narendra Modi Stadium because of the persistent rain in Ahmedabad.
The IPL 2023 championship game was eventually rescheduled to the following day—May 29—more than three hours after the scheduled start of play because the umpires felt that the game could not commence on Sunday.
The 2002 ICC Champions Trophy final featured India and Sri Lanka
On September 29 at the R. Premadasa Stadium in Colombo, India, and Sri Lanka squared off in the 2002 ICC Champions Trophy final.
Sanath Jayasuriya (74) and Kumar Sangakkara (54), two outstanding batsmen for Sri Lanka, limited them to 244/5 in their opening innings.
Harbhajan Singh distinguished himself for India with a score of 3/27. The rain stopped play after two overs in the chase, leaving the Men in Blue at 14/0.
On September 30, the match was called off, and a new contest started. Again, Sri Lanka batted first but was unable to amass a sizable total. Russel Arnold added an outstanding 56, while Mahela Jayawardene finished first with 77 points. Nevertheless, Sri Lanka could only total 222/7 in their 50 overs despite Zaheer Khan's impressive 3/44 stats.
World Cup match number 25 featured India and England
On May 29, 1999, Inida Took England in game 25 of the ODI World Cup. The match was place in Birmingham's Edgbaston. India was given the bat by England, who held them to a score of 232/8.
Two wickets apiece were taken by Darren Gough, Alan Mullally, and Mark Ealham. Rahul Dravid led the Men in Blue in scoring with a gutsy 53, and Sourav Ganguly chipped in with 40.
In response, England had scored 73/3 in 20.3 overs when play was halted by thunderstorms, forcing the match into a reserve day. Before the game was suspended for the day, England had lost Alec Stewart (two), Graeme Hick (zero), and Nasser Hussain (33).
Graham Thorpe was lbw for 36 after Javagal Srinath's devastating strike on the reserve day. Anil Kumble caught Andrew Flintoff (15) and Adam Hollioake (6) lbw, while Ganguly removed Neil Fairbrother (29) and Ealham (0). India won the match famously by 63 runs on the reserve day when England were all out for 169 in 45.2 overs.
The 2019 World Cup semifinal between India and New Zealand
The 2019 ODI World Cup semi-final between India and New Zealand at Old Trafford in Manchester, which resulted in sadness for the former, was one of the most renowned matches finished on reserve day.
On July 9, after the Kiwis won the toss and decided to bat first, the game officially started as planned. The day had a total of 46.1 overs of play available to it before the weather forced the usage of the next day.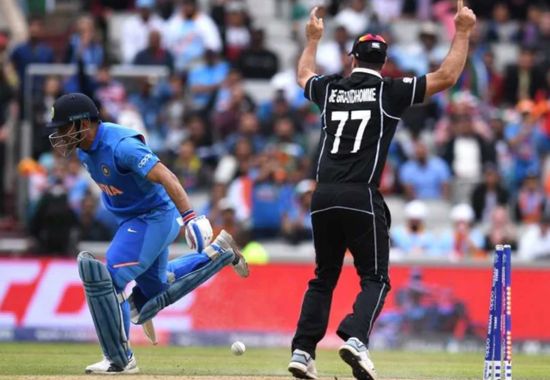 At the outset of the fourth over, India's score read a catastrophic 5/3. While MS Dhoni (50 off 72) and Ravindra Jadeja (77 off 59) made heroic attempts to save the situation, their efforts fell short as New Zealand bowled out India for 221 to win the match by a historic 18 runs.
Read Also – Ambati Rayudu's top 5 Innings in the IPL
Follow Us
[DISPLAY_ULTIMATE_SOCIAL_ICONS]