Boxing is one of the most famous and watched sports games, The women's boxing first appeared in Olympics game at the demonstration bout in 1904. The first event was between two thirteen-year-old girls from the game it proves that girls are no lesser than boys and they can also perform at the same level, Also some countries have banned boxing for females. So here are some great 10 best female boxers in the world. so check Top 10 Best Female Boxers.
1. Claressa Shields:
Claressa Shields is one of the greatest American boxers, she has ranked as the world's best active female light middleweight by The Ring and BoxRec as well as the best active female boxer, a pound of the pound and ESPN by second by The Ring and fourth by BoxRec she is the only female boxer to hold all the four major world titles in boxing. Recently she has been voted for the best female boxer in 2021.
2. Mariana Juarez:
Mariana Juarez is born in Tlaxcala, Mexico, she is a Mexican professional boxer, she is a former two-division world champion having held the WBC female flyweight title from 2011 to 2012 and WBC female Bantamweight title from 2017 to October 2020, she has been ranked as a second-best active female bantamweight by The Ring and fifth by BoxRec.
| | | |
| --- | --- | --- |
| 68 fight | 54 Wins | 10 Losses |
| By Knockout | 18 | 3 |
| By Decision | 36 | 7 |
| Draws | 4 | |
3. Katie Taylor:
Katie Taylor is an Irish boxer she is the second-best female boxer in the world she is currently undisputed lightweight champion, Taylor has won five consecutive gold medals at the Women's World Championship and sixth time gold at European Championship she has a massive fan following in Ireland she is credited with raising the profile of women's boxing at home and abroad.
Also See: Top 10 Best Female Cricketers In The World 2021
5. Amanda Serrano:
Amanda Serrano is a professional boxer and wrestler, currently as a boxer she is holding WBC and WBOfeather weight title since 2019 she is the only female to win world titles in more than four weight class she is also granted the first "Super World Championship" awarded to women.
6. Jessica Mccaskill:
Jessica is an American boxer she is a two-weight world champion she has been holding the title of WBC female super lightweight title from 2018 to 2020 and the WBA female super lightweight title from 2019 to 2020 she is also ranked as the first female welterweight by Lineal Boxing Champion by The Ring and BoxRec, Also she is the first female boxer to be highly skilled at McCaskill.
7. Cecilia Braekhus:
Cecilia Braekhus is a Norwegian professional boxer and former kickboxer, she has been the first women to hold all 4 WBA, WBC, WBO, IBF in any weight class simultaneously her name has been recorded in the Guinness World records awarded with the three recognition in 2018; 1) the Longest Reigning Female Boxing Champion 2) the Longest Reign as a Four-Belt Undisputed Boxing Champion 3)Most Bouts Undefeated by a Female World Champion Boxer
8. Delfine Persoon:
Delfine Persoon is a Belgian professional boxer at first she used to work as a railway policewoman and in 2009 she shifted her career to professional boxing she has been titled a lightweight female in IBF and WBC from 2014 to 2019 she is ranked as 6th best female boxer in 2021.
9. Christina Hammer:
She is one of the youngest female boxers and she has been won the title of middleweight held at WBO and WBC she was also awarded BDB's female boxer of the year and WBO awarded her with a WBO diamond ring for exceptional performance. She is also the second-best super active middleweight in Lineal Boxing Champion.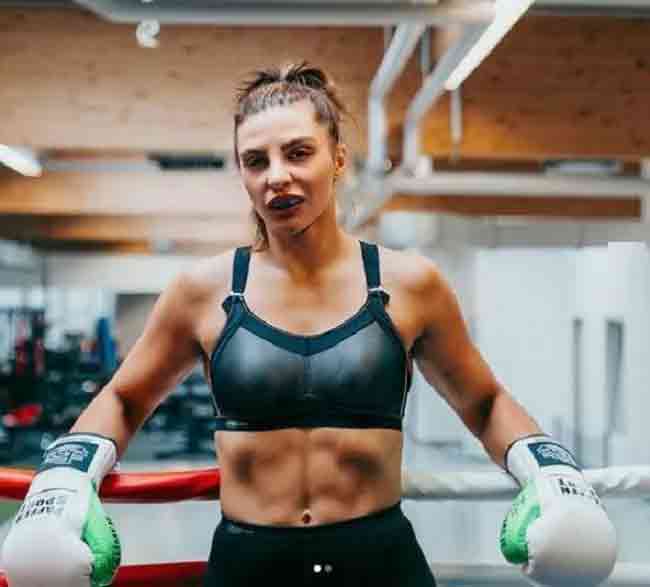 10. Daniela Bermudez:
Daniela Bermudez is an Argentine professional boxer she is a three-weight world championship and presently she holds 2 championship WBO female Bantamweight titles and IBF female junior featherweight, She is also ranked as best active female by The Ring and second BoxRec.