In the world of combat sports, kickboxing has a special place for itself and is one of the most entertaining sports to watch. A form of martial art that requires the utmost skills and perfect technique to excel.
Many talented kickboxers have stepped into the ring to prove their mettle. However, as it is with all sports, or any field for that matter, there are those few who have carved a name for themselves as being the best and they deserve to be highlighted. So here is a list of the top 10 kickboxer, considered the best in the world.
10. GIORGIO "THE DOCTOR" PETROSYAN
One of the greatest kickboxers of all time, Italy's Giorgio Petrosyan (105-3) is still a pound-for-pound talent after 19 years in the game at number 10. Debuting in 2003, Petrosyan has had a storied career filled with some of the greatest accolades and names the sport has to offer.
The two-time K-1 MAX World Grand Prix Tournament Champion, GLORY 70kg Slam Tournament Champion, and former ONE Featherweight Grand Prix Champion, Petrosyan has seen it all.
9. WEI "DEMON BLADE" RUI
China's own, Wei Rui (67-3), is Beyond Kickboxing's number nine ranked pound-for-pound fighter. With the longest win streak on the pound-for-pound list, 18 fights, Rui has found success throughout Asia across multiple weight classes.
During Rui's first stint in China, which dates back to 2015, he won the Wu Lin Feng 63kg World Championship Tournament, beating fighters like Pakorn P.K. Saenchai Muaythaigym and Deng Zeqi to win the title. Going over to Japan in 2017, Rui also became the K-1 Lightweight (62.5 kg) Champion.
8. KAZUKI OSAKI
The youngest addition to the Beyond Kickboxing pound-for-pound rankings is 26-year-old Japanese fighter, Kazuki Osaki (36-5), at number eight. With an extensive Muay Thai background, Osaki has competed in Thailand, racking up wins and challenging for the title at the renowned Lumpinee Stadium. Making the switch to Kickboxing just three years ago, he quickly shot up the ranks. Now fighting in RISE, Osaki holds their Super Flyweight (53 kg) title.
7. MARAT GRIGORIAN
The number seven ranking belongs to Armenian fighter, Marat Grigorian (65-12-1). Signed to ONE Championship where he fights in their Featherweight division, Grigorian is without a doubt one of the most exciting Kickboxers in the world. More than just an action fighter, Grigorian has the skill to match his forward pressure. Winning the GLORY title against Sitthichai Sitsongpeenong in 2019, Grigorian defended his title two times against Tyjani Beztazi and Elvis Gashi. Since signing with ONE, Grigorian has found himself up against Ivan Kondratiev, Andy Souwer, and Superbon Singamawin.
6. RICO "THE KING OF KICKBOXING" VERHOEVEN
At number six from the Netherlands is the best Heavyweight Kickboxer of the modern era, Rico Verhoeven (59-10). Fighting in GLORY, the premiere organization for Kickboxing's big men, he has held the Heavyweight (+95 kg) title since 2014.
Accumulating 10 title defenses, Verhoeven is the longest reigning Champion on the pound-for-pound list. With names like Jamal Ben Saddik, Tarik Khbabez, and Badr Hari on his record, Verhoeven has beaten fighters new and old to prove he is truly the king of the Heavyweight division.
5. SITTHICHAI "THE KILLER KID" SITSONGPEENONG
Holding the number five ranking is Thailand's Sitthichai Sitsongpeenong (127-33). The former GLORY Lightweight (70 kg) Champion and former Wu Lin Feng (71 kg) Champion, Sitthichai is a long-time veteran of the sport.
Yet despite the longevity of his career, Sitthichai has proven himself to be a mainstay in the world of Kickboxing with his ONE Championship Featherweight Grand Prix tournament run. In order to make it to the tournament final, Sitthichai had to overcome Tayfun Ozcan and Davit Kiria. In the opening round, Sitthichai matched Ozcan's speed and pace, winning decisively.
4. PETCHPANOMRUNG "THE PROFESSOR" KIATMOOKAO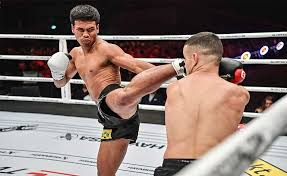 Clinching the number four ranking is Petchpanomrung Kiatmookao (167-38). Fighting under the GLORY banner, he holds the Featherweight (65 kg) belt where he has gone undefeated in nine fights. Additionally, due to crossover events between GLORY and RISE, Petchpanomrung has also become RISE's inaugural Super Lightweight (65 kg) World Champion.
Defeating Kento Haraguchi for the RISE title in August, Petchpanomrung is the only cross-promotional Champion in the sport across the major promotions. With four title defenses in GLORY
3. ARTEM VAKHITOV
In the number three spot is Artem Vakhitov (22-6) from Russia. The former two-time GLORY Light Heavyweight (95 kg) Champion is currently in a state of limbo. GLORY released Vakhitov and all of its Russian fighters in June due to difficulties caused by sanctions imposed on Russia.
This was just before Vakhitov's first defense of his second run as Glory Champion in a rematch against Luis Tavares. Vakhitov reclaimed his title in a rematch against Alex Pereira after losing it in a controversial split decision. Before Vakhitov's first fight with Pereira, Vakhitov was reigning over the division with five defenses against fighters such as Donegi Abena, Saulo Cavalari, and Ariel Machado.
2. CHINGIZ "CHINGA" ALLAZOV
Coming in at number two is Chingiz Allazov (59-5) out of Belarus. Since experiencing a minor setback in April 2021 against Enriko Kehl, the former K-1 Super Welterweight (70 kg) Champion has been on a tear through ONE Championship's Featherweight division.
An aggressive starter, two of Allazov's last three fights have ended in a first-round knockout over Samy Sana and Jo Nattawut. However, more than just a strong athlete, Allazov showcased his technical skills in a hard-fought victory against Sitthichai Sitsongpeenong winning the ONE Championship Featherweight Grand Prix Final in the process.
1. SUPERBON SINGHA MAWYNN
Fighting out of Thailand, the number one ranked fighter in our pound-for-pound list, Superbon (113-34), is the current champion of ONE Championship's Featherweight (70 kg) division. Superbon, who has looked unstoppable during his ONE Championship tenure so far, started to make a name for himself in Kunlun Fight in 2015 and onward.
A defensively sound and slick outfighter, the Thai quickly established himself in the -70 kg rankings worldwide. Winning his trilogy with Sitthichai Sitsongpeenong, knocking out Giorgio Petrosyan, and putting on a masterclass performance in a revenge match against Marat Grigorian, Superbon's last three fights have cemented his place as the best Kickboxer in the world
Follow Us
[DISPLAY_ULTIMATE_SOCIAL_ICONS]