Top 10 car racing games for Android. In this article we are going to tell you about the top 10 car racing games for android. So, here are the list of the games.
Top 10 car racing games for Android
Here are the list of the games.
1. Asphalt 9: Legends
The Asphalt 9 is very successful in getting the famous racing title and that's why this is the best racing games for android. Asphalt 9 has wide variety of cars that you can choose. It includes cars like Ferrari, W Motors, Bugatti, Lamborghini etc. The game has different modes like – online multiplayer and career mode. The graphics are top notch like the cars, buildings, sceneries and roads looks so good.
2. Mario Cart Tour
Nintendo bring Mario kart back for smartphones with decent controls and traditional gameplay. Mario Kart is one of the best Racings Games for android. The game is not big very much but it was quite good. It has short tracks and only two laps races are there but it was good because it was good is short mobile- friendly sessions.
3. F1 Mobile Racing
F1 Mobile Racing was the only official f1 Racing Game which is developed by Codemasters Software Company Ltd. This Game has very smooth controls and intensive graphics. In this game you can develop your car and customize it in your way. This game has two gaming mode which is normal F1 race weekend, and the second one is real time multiplayer.
4. CSR Racing 2 – Car And Drag Racing Game
CSR Racing 2 is a game which set standards too much high in Best Racing Games and drag racing games for android. In this game you can do whatever with your car means you can customize it in your way. You can buy them and sell them and can tune them for different modes and have to race and compete with the opponents in the game challenges and come on first position after defeating them.
5. Need For Speed: No Limits
The title Need For Speed is considered as one of the most cool and the trendsetter of the racing games for android among all gamers and luckily, to live all those memories of our childhood we can have a mobile version of this game. NFS has total around 30 cars which we can customize and upgrade by our choice. The game controls are not very much hard they are simple where there has two buttons one for acceleration and one for braking. This is one of the oldest game in the history of racing games.
6. Hill Climb Racing
Hill Climb Racing is one of The Best Racing Games for android. This game is completely based on the physics, in which the vehicle races on rough and hard patches. This game has very stock sound effects, hand-drawn graphics and some cheesy music loops. The controls of the game is very simple it has only a gas pedal and a braking pedal to control the vehicle. By doing jumps you will get bonus points.
7. Real Racing 3
Real Racing 3 includes all the worldwide motorsports, it includes the legendary and famous Formula 1 racing. the visuals of the game is top notch so that you can have the immersivce experience during the game play. This game is made by EA Sports and the bars has been set by the Real Racing to the mobile racing games. The game has 19 real-world location and licensed tracks with 40 circuits.
8. Top Speed: Drag and Fast Racing 3D
Top Speed is a very interesting and a exciting game which is developed by T-Bull. This acr game has 69 types of cars. In this game the motive of the player is to become the overlord of the game city and there are different districts in this game which has different gangs and there is a lot of fun while cleaning all the bosses in the city.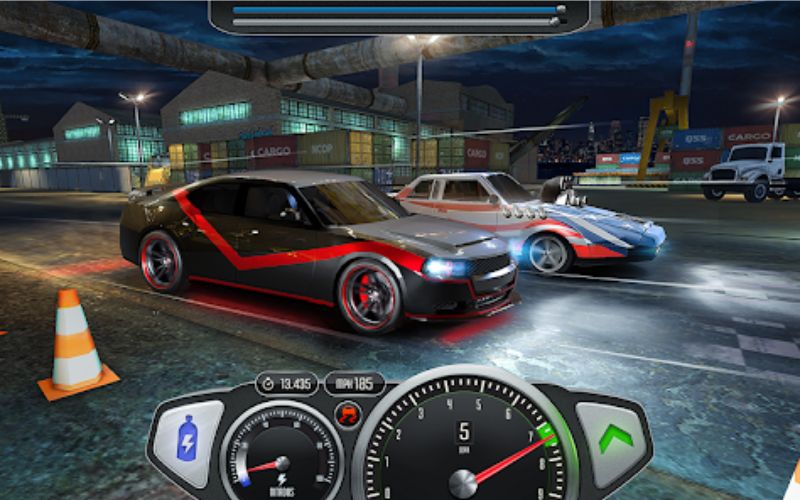 9. Traffic Racer
Traffic Racer is considered as one of the oldest games in the list of Racing Games. This Game is a endless arcade racing game which make you to play the game continuously until you reach more distance in comparison of your last score. You have to drive fast on the highways with a lot of traffic to earn cash, buying new car and for upgrading the old ones. This game has stunning graphics which gives the game a cool look without any overdose of graphics. The controls are very simple and we have the option to choose cars overs 40 options.
10. Real Drift Car Racing
Real Drift Car Racing mostly focuses on drifting. This game has different modes according to your skill levels. The game has different cars and various tracks and you can customize your car according to your perspective. This game has two version one is free and another one is paid.
Read Also- Top 10 Most Popular Mobile Games You Must Play
Follow Us
[DISPLAY_ULTIMATE_SOCIAL_ICONS]