In today's game of football, clever decision-making is everything. Different qualities are necessary for any player to succeed in the modern game. One of these features that managers around the world are still looking for is a player's pace on and off the ball with precise ball control.
Many superstars have scored breathtaking goals by running down the flanks and past defenders, showcasing the game's brilliance and captivating fans. This article analyzes Premier League's fastest players. The information for this article is obtained from the Premier League website after it became accessible and began collecting data from the 2019–2020 season.
The Premier League is still one of the toughest leagues to evaluate players. Because of the competition, speedy players are essential in a league with most of the greatest clubs. Ten fastest Premier League players:
10. Pierre-Emerick Aubameyang – 36.43 Km/h
Aumbameyang is incredibly fast, ranking among the world's most elite athletes. Against Burnley on August 17th, 2019, he hit a top speed of 36.3 kmph on the radar gun. The current top player for Chelsea was a member of Arsenal at the time. However, After netting 68 goals for Arsenal, he spent a year with Barcelona before signing with Chelsea, one of Arsenal's biggest rivals.
9. Adama Traore – 36.47 Km/h
One of the fastest speeds ever recorded in the Premier League was by Wolverhampton Wanderers winger Adama Traore on July 26, 2020, against Chelsea. He was timed at a high speed of 36.47 km/h. However, the player is renowned for his outstanding running technique, ability to outpace defenders with his pace, and strong body, which is a crucial component of his core stability while sprinting.
8. Darwin Nunez – 36.53 Km/h
Darwin Nunez is an Uruguayan striker who currently plays in the Premier League for Liverpool. He ran 36.53 km/h against Fulham in a match on 6th August 2022, as he is noted for his pace and ability to stretch defences with his runs. However, In 14 league appearances for Liverpool, the Uruguayan star has 5 goals and 2 assists.
7. Shane Long – 36.53 Km/h
Shane Long is a striker for the Republic of Ireland. He has played for several Premier League clubs, but his best speed was when he was with Southampton. On December 8, 2019, he was playing against Newcastle United in a Premier League game and hit a top speed of 36.53 km/h. This is one of the league's fastest speeds ever recorded, and it shows how fast Long can run past the other team's defence. However, he represents Reading in the EFL Championship.
6. Anthony Gordon – 36.61 Km/h
With his lightning-fast pace, Anthony Gordon has frequently given fans moments of hope amidst the despair. The left-winger for Everton, age 21, has one of the fastest speeds in the Premier League this year, clocking a top speed of 36.61 km/h versus Fulham on October 29, 2022. However, the player is struggling after being in the relegation zone and with manager Frank Lampard being fired in January, his squad has struggled this year.
5. Mykhailo Mudryk – 36.63 Km/h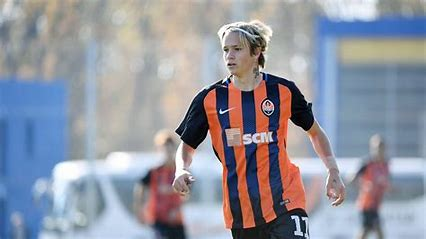 Chelsea signed Mykhailo Mudryk off Ukrainian side Shakhtar Donetsk in January in a transaction costing a whopping £88.5 million. The 22-year-old winger made his debut against Liverpool in a goalless draw on January 21, stunning spectators with his pace and footwork. In the game, the left-winger reached a high speed of 36.63 km/h, making him the division's fastest player in the 2022/2023 season.
4. Adama Traore – 36.64 Km/h
Adama Traore, the winger for Wolverhampton Wanderers makes it to the list again, setting a Premier League record on 11/12/21 against Manchester City with one of the fastest speeds ever recorded in the league. His peak speed was recorded at 36.64 kilometres per hour. This is his greatest speed ever, putting him at number four on the list. However, his powerful physique helps him accelerate and outpace defenders.
3. Mohamed Salah – 36.64 Km/h
Mohamed Salah, is well-known for his remarkable speed and dribbling abilities. His pace has been a key element in his success and made a substantial contribution to both his goals and assists. Salah's top recorded speed in the Premier League, which was against Southampton on November 27 2021, was around 36.64 km/h, demonstrating his lightning-quick acceleration and agility.
2. Pierre-Emerick Aubameyang – 36.66 Km/h
Aumbameyang reaches the list once more, making him the Premier League player with the second-fastest speed. In a league match against Watford on July 26 2021, he ran at a speed of 36.66 km/h, breaking his personal record. However, when he was playing for Arsenal, his pace was at its finest. Aumbameyang, though, is extraordinarily quick and is one of the best athletes in the world.
1. Antonio Rudiger – 36.72 Km/h
Antonio Rudiger now holds the record for the fastest Premier League player after stopping a Brighton & Hove Albion attack on 12 December 2021 with a sprint of 36.72 kilometres per hour. However, his clash was when he was representing Chelsea. Since then he was transferred to European Giants Real Madrid because of his competence and talent.