Tennis talent is ever-present in Australia. It is no surprise that the Australian Open has played a huge part in nurturing the best tennis players. Check Top 10 greatest Australian Tennis Players.
Australian Tennis players have dominated the Australian Open ever since its establishment. The men and women lead all nations with 50 and 43 victories respectively at the event.
Australian men have won 11 French Open titles and its women have won 8 at Roland Garros. At Wimbledon Australian men had combined for 21 titles Australian men and women rank second in US Open titles by country, only behind hosts in the USA.
Australia along with Great Britain and the United States of America has been the most successful nation in Grand Slams.
Check out the 10 greatest Australian Tennis Players.
Top 10 greatest Australian Tennis Players of All Time
10. Lleyton Hewitt
Aussie Lleyton Hewitt, nicknamed 'Rusty', was a baseline hitter famous for his five-set duels and remarkable come-from-behind victories. Hewitt, who made his Grand Slam debut in 1997 became the ATP Tour's youngest ever World Number 1.
The last Australian to win a Grand Slam title, Hewitt was the darling of the Aussie crowd. There would be chants of 'Rusty!' and 'Let's go Rusty!' reverberating across all the arena in the country when Hewitt played.
Much was expected of him and he didn't disappoint. He won the US Open in 2001 at the age of just 20. Hewitt became the first Australian since Pat Cash to win Wimbledon when he did so in 2002.
Hewitt has made Australia proud on many occasions, including helping the country win the Davis Cup twice – in 1999 and 2003.
9. Neale Fraser
Neale Fraser was a remarkable athlete famous for his huge forehand and power-packed left-handed serve. A Wimbledon champion and two-time US Open winner, he was unlucky to miss out on winning the Australian Open. Against Rod Laver in 1960, he had a match point, only to lose 8-6 in the fifth set.
In 1959 and 1960 Fraser dominated the US Open, winning the singles, doubles, and mixed titles in both years.
A committed Davis Cup player, he had a win-loss record of 18-3. His commitment to the tournament continued for 24 years as captain. Fraser helped Australian teams to victory in 1973, 1977, 1983, and 1986.
In 2008 he was awarded the ITF's highest award – the Philippe Chatrier award – for outstanding achievement in tennis. He was inducted into the International Tennis Hall of Fame in 1984.
8. Norman Brookes
Sir Norman Brookes was the first international player to win the prestigious Wimbledon Championships way back in 1907. Brookes' style, a blend of solid groundstrokes combined with excellent serving variety, propelled him to great heights.
Brookes won the Australian Open in 1911 and three years later won both the singles and doubles titles at Wimbledon. That was the first time that he was returning to London since his first win at SW19 seven years earlier.
He has the record for being the oldest doubles Champion at the Australian Open – a feat achieved in 1924 at the age of 47.
Post-retirement, Brookes became an efficient tennis administrator and served as president of the Lawn Tennis Association of Australia from 1926 to 1955. His name is present on the men's singles trophy at the Australian Open.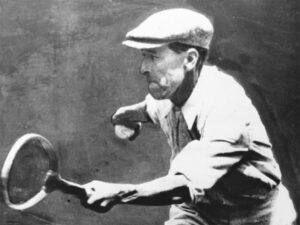 7. Ashley Cooper
Ashley Cooper's game was a supreme example of attacking from baseline coupled with deft net skills. In 1958, he won all the Grand Slams barring the French Open; at the time he was only the sixth man in history to win three or more Grand Slams in a single calendar year.
Cooper won successive Australian Open titles in 1957 and 1958 and was part of Australia's Davis Cup team in both years. In 1957 the Australians beat the United States 3-2, but in 1958 the result was the opposite, with the Americans winning against the Australians 3-2.
Cooper was knighted in 2007 for his service to tennis. He was inducted into the Australian Tennis Hall of Fame in 1987. Later, he was inducted into the International Tennis Hall of Fame – in 1991.
Apart from singles, Cooper's volleying skills played a vital role in him succeeding in doubles too; he won four doubles Grand Slam titles.
6. Frank Sedgman
Frank Sedgman won an astounding 22 Grand Slam titles across categories in just five years. Of the 24 Grand Slams played across categories in 1951 and 1952, Sedgman won 16 of them, including a Calendar Year doubles Grand Slam in 1951.
Sedgman had lightning-quick reflexes and an athletic build. His net play was second to none at the time. A strong exemplar of the serve-and-volley game, Sedgman was Australia's first Wimbledon champion post the Second World War, ushering in the golden era of Australian tennis.
His first Davis Cup appearance came in 1949 and he took Australia to the final, where they lost 4-1 to the USA. Next year, Sedgman and his team exacted sweet revenge, winning the Cup 4-1 on American soil.
Sedgman helped Australia to retain the Davis Cup in 1951 and 1952 and wrapped up his Davis Cup career with a 25-3 record.
5. Evonne Goolagong Cawley
Evonne Goolagong Cawley won four Australian Open singles between 1974 and 1977, though not in consecutive championships, as she missed the January 1977 Open and won the December 1977 event.
Popularly referred to as "Gong", she retired in the mid-1980s with seven Grand Slam singles titles from 18 finals (5th highest of all time) and 13 major titles in all. Her charm, ethereal touch, and lightning speed around the court were what made her such a successful and powerful player.
The US Open was the only major to elude the adored Aussie; she lost four consecutive finals in New York between 1973 and 1976. She did, however, win Wimbledon as a mother in 1980, only the second woman to do so after compatriot Margaret Court.
In all, Goolagong won 68 WTA titles (6th highest of all time).
4. Ken Rosewall
Prior to the advent of the Open Era in 1968, many professional players played in Pro-Tour or Pro-Slam tournaments to earn prize money, as the Grand Slams forbade professionals from competing in their events. In this regard, it is noteworthy to mention that Australian Ken Rosewall won a record 15 Pro-Slam titles.
His total Slam tally of Grand Slams and Pro-Slams is 23, putting him well ahead of any other player. Rosewall was a serial Grand Slam winner, with 8 Singles and 9 Doubles trophies.
He won the Australian Open 4 times and his last Australian Open triumph came in 1972 at the age of 37y, 62 d making him the oldest player in the Open Era to win any of the 4 Grand Slam titles.
Ken Rosewall is the youngest as well as the oldest winner of the Australian Open.
3. Roy Emerson
Queenslander Roy Emerson was a prominent tennis figure in the 1960s along with countryman Rod Laver. Emerson is the only man to have won all 4 Grand Slam titles in both Singles and Doubles. The big-serving Aussie holds the record of 6 Australian triumphs jointly with Novak Djokovic and Roger Federer.
Emerson also holds the record for winning 10 straight victories in Grand Slam tournament finals in which he appeared. His tally includes – 6 Australian Open triumphs (1961, 1963, 1964, 1965, 1966, 1967), 2 French Open titles (1963,1967), 2 Wimbledon trophies (1964, 1965), and 2 US Open wins (1961,1964).
A prominent figure in Australia's golden era of tennis, Emerson was part of eight Davis Cup-winning teams and had a win-loss record of 34-4 in the tournament. He was inducted into the International Tennis Hall of Fame in 1982.
2. Rod Laver
Another tennis legend whose name is constantly mentioned in the 'GOAT' debate is Rod Laver. The only player to have both a stadium and tennis tournament named after him. Laver has won the Calendar year Slam on two different occasions (in the years 1962 and 1969), a record which looks unlikely to ever be broken.
Laver's tally of 11 Grand Slams includes 3 Australian Open victories (1960, 1962, 1969), 2 French Open titles (1962, 1969), 4 Wimbledon Championships (1961, 1962, 1968, 1969), and 2 US Open triumphs (1962,1969).
Laver earned the monicker "Rocket" from Australian coaching legend Harry Hopman. He was the first player in tennis history to rake in $1 million in prize money earnings. He was also a part of 5 Davis Cup-winning teams.
Laver was inducted into the Australian Tennis Hall of Fame in 1993 and the International Tennis Hall of Fame in 1981.
1. Margaret Court
Margaret is the first player in the Open Era to have completed a Career Slam by winning all four Grand Slam titles. She is also the only woman to have won the Mixed Doubles Calendar Slam; she achieved this not once but twice, in 1963 and 1965.
Her combined tally of 24 Grand Slam Singles titles, 19 Women's Doubles, and 21 Mixed Doubles' titles are second to none. Her record of 24 Grand Slam Singles titles still stands today.
She won the Australian Open a record 11 times and also won more Mixed Doubles titles than any other woman – active or retired. Court also won a Calendar Slam in singles in the year 1970.
The court is one of three players in the history of tennis to have won 'The Grand Slam Box Set', along with Doris Hart and Martina Navratilova. 'The Box Set' comprises of winning every single Grand Slam tournament across singles, doubles, and mixed doubles categories
Follow Us
[DISPLAY_ULTIMATE_SOCIAL_ICONS]