Top 10 Highest Women Soccer Player Salary
Top 10 Highest Women Soccer Player Salary: Women's football is growing at a breakneck speed. With over 100 million people watching women's football for the first time in 2019, punters are able to find more and more events and women's soccer has a great opportunity to flourish because it is no longer enough to just have the men's team competing.
Footballers have become less able to predict their income, which means that the best is earning an extortionate amount of money.
In other words, Ada Hegerberg was the highest-earning female player in 2019, which is just 0.3% of Lionel Messi's earnings for the same year.
Salaries in football are often disproportionate when you look at how much the men's game pays. Top wages for referees in the Premier League can rival what women earn on average…
Without further ado, it is time to consider the latest financial figures for the best-paid female professional footballers. There are some names on the list that will be familiar to you, with two recent winners of the Ballon d'Or women's football Player of the Year award making it.
Top 10 Highest Women Soccer Player Salary
Christine Sinclair:
Sinclair was listed as the top-paid female footballer in 2020. This 37-year-old is captain of Canada's national team while playing for Portland Thorns in the National Women's Soccer League (NSWL).
As well as being an international scorer, Sinclair holds the record for the highest number of goals scored by female and male players. With 186 goals under her belt, Sinclair has won the Canada Soccer Player of the Year award on 14 occasions.
However, she earns slightly less than 10% of the best-paid female soccer players in the world. Despite being one of the most influential and impactful players of her generation, Sinclair earns less than $40,000 annually.
Wendie Renard:
Wendie Renard has won a French title, European Cup and got named on various All-Star teams. With an annual salary of $392,000, Wendie ranks as the ninth highest-paid footballer in women's football this year.
Renard is one of the most successful players in women's club football, as she has committed her entire playing career to Lyon. Renard is renowned for her goal-scoring ability as a defender and can be found in both women's soccer and men's football.
While this World Cup still eludes the 34-year-old, Renard's star power is undeniable. The 6′ 1″ footballer speaks out at the press conference and is worth her hefty salary.
Amandine Henry:
Goalkeeper Amandine Henry, who plays for France and is the highest paid female soccer player in 2020 is topped by teammate Wendie Renard with $394,500 annually as of 2019 figures.
Like many of France's successful stars, Lyon is her home club and one of the first names on the team sheet. As Team Captain, she's irreplaceable.
If a comparison is needed between salaries, Paul Pogba is the eighth highest-paid male footballer and earns an annual salary 58 times higher than that of Thierry Henry.
Marta:
Marta is one of the most famous soccer players in history. She is seventh on the list of top-earning female soccer players in 2020. Playing for Orlando Pride, Marta is still demonstrating her talent on the biggest stage.
Marta has been named FIFA World Player of the Year on six occasions. She has won five consecutive awards from 2006 to 2010, and two gold medals during her time with the Brazilian 2004 Olympic team and 2008 Olympics.
Marta carries a number of records, earning the title of one of history's greats, but her $400,000 annual salary means that she doesn't earn as much as some of her peers.
Ada Hegerberg:
Norway football star Ada Hegerberg is one of the most popular stars in women's soccer and one of the very highest paid. As a footballer, she plays for Lyon in France, with her presence sometimes being enough to change the betting odds. She also makes sixth place on this list of the top 10 players in women's football – which generally means that they're good!
Her salary for 2020 is recorded at $425,000 but she also earns a generous sum of money from various sponsorship deals. That Nike contract puts her one of the world's highest-profile athletes.
The first female player ever to scoop the Ballon d'Or, Hegerberg is on top of the later female soccer earnings list. She gives a lookout for her sport in Nike advertisements in the coming months.
Julie Ertz: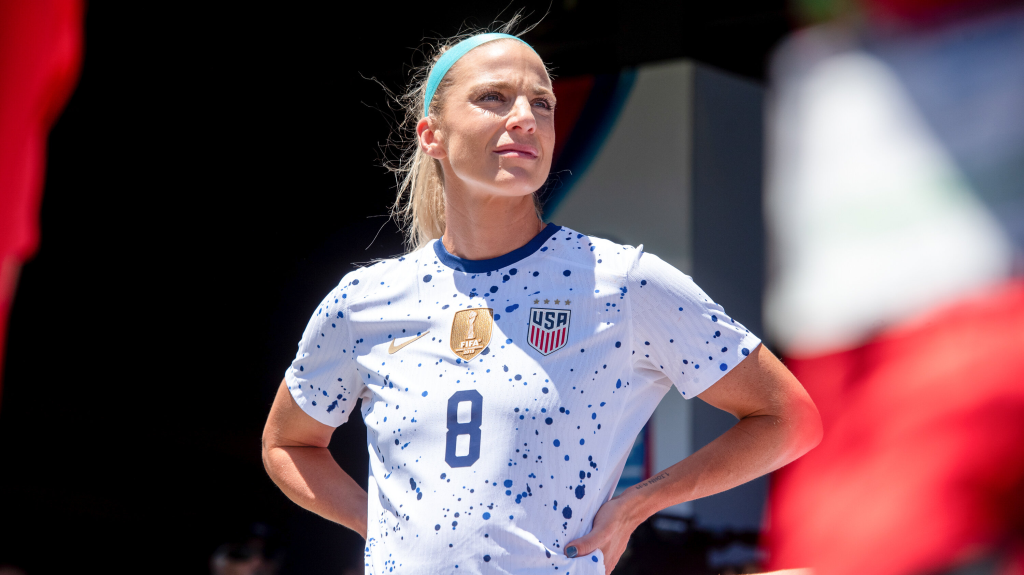 The most recent financials show Ertz is the fifth highest-paid female soccer player, earning $430,000 this year. She's pulling in just under Ada Hegerberg from Norway.
Sporting star, Jennifer Ertz for the Chicago Red Stars and also for United States women's soccer team. Fast-paced player, a two-time World Cup winner, and a female soccer star.
And even though she was named the U.S. Soccer Female Player of the Year in 2019. Ertz is one of the best female football players around and a key figure at the club and national levels.
Megan Rapinoe:
Megan Rapinoe is a very well-known soccer star. She was the highest-paid female player in 2020 and was named the Best FIFA Women's Player in 2019.
Both of these achievements, a Ballon d'Or and earning her salary, made Rapinoe a legend in the sport. She is widely regarded as the pioneer for change at the highest level in women's soccer.
Despite her sponsorship with Nike, superstar footballer Alex Rapinoe has not been able to break into the top three highest-paid female footballers. She is seen often in the media and on the soccer field as she is a rising star among stars.
Alex Morgan:
One of the world's biggest icons in women's soccer, Morgan has inarguably worked and acquired to the very top of the football world. Her performances on the pitch have made her known all around the world.
Morgan's base salary is around $450,000 a year, which is much more than most people earn. Additionally, the majority of her income comes from endorsement deals with companies like Coca-Cola, Nike, and McDonalds.
If a woman loves soccer, she loves Morgan. She is the most followed female footballer on Instagram and has appeared on the cover of two different editions of FIFA Soccer. She is adored by many and is industry-leading in exposure.
Carli Lloyd:
Carli Lloyd has been on the U.S. women's national team for more than 20 years, is a workhorse on the pitch, and has earned millions in that time.
Hailing from Washington, Lloyd has used her skills to score 12 goals for the United States National Team in 294 matches. The unstoppable attacker is a popular pick for prematch predictions online today at major tournaments.
With a $518,000 annual salary. Lloyd's career is coming to an end and she tops the list of highest-earning women footballers. Lloyd has influenced countless young girls across the United States to follow their dreams in women's soccer.
Sam Kerr:
Kerr is a former pro player who now plays for Chelsea at an expensive price of $410,000. Reports say the contract is worth between $500,000 to $700,000 with discrepancies in price estimates.
However, Kerr looks to be an up-and-coming face in soccer with some impressive statistics on her name. She is already the captain of the Australian Women's National Team and she was recently signed by Nike Australia as their global ambassador. The sky is the limit for Kerr
In 2019, Kerr was the all-time leading scorer in the NSWL and Australian W-League. Although it remains to be seen if she will take over the top spot in the female soccer salary rankings next year, her success so far makes it likely.
List:
Sam Kerr – $525,000
Carli Lloyd – $518,000
Alex Morgan – $450,000
Megan Rapinoe – $447,000
Julie Ertz – $430,000
Ada Hegerberg – $418,000
Marta – $400,000
Amandine Henry – $394,500
Wendie Renard – $392,000
Christine Sinclair – $380,000
Follow Us
[DISPLAY_ULTIMATE_SOCIAL_ICONS]