Top 5 Australian defeats during the 2021–2023 World Cup Cycle: Beginning on Wednesday, June 7, the final between India and Australia will take place at the Oval in London, capping off the WTC cycle of 2021–2023. Both teams will be vying for their first WTC championship, with New Zealand taking home the first trophy in 2021 at The Rose Bowl in Southampton.
Australia's entry into the second cycle of the WTC final was secured by a win over India in the third Test at the Holkar stadium in Indore during the Border Gavaskar trophy.
Their campaign got off to a rousing start with a 4-0 demolition of England in the Ashes series down under. Australia was one wicket away from completing a clean sweep in the Sydney Test.
They were able to earn points from the challenging Asian phase of the cycle thanks to a series victory against Pakistan's flat fields and a 1-1 draw away against Sri Lanka.
The Australian is in a solid spot on the overall points table thanks to comfortable victories against the West Indies and South Africa at home. Despite India's series defeat, qualifying remained assured.
Australia reached the top match with an all-around effort by the team, which included members from all departments. While their renowned bowling attack worked its magic, the team's batters weren't frequently let down either.
Before playing India in the championship game, let's have a look at the five best Australian hits from this WTC cycle (2021-23)
1 Travis Head – 152 vs England in Brisbane (1st Test)
Travis Head struck the three lions with his own quickfire knock to set the tone for the 2021–22 Ashes series before England's "Baseball" strategy in Test Cricket emerged.
Head led Australia to victory in the opening match of the crucial tour with a stunning 152 off just 148 balls. He nearly defeated the English bowling attack by himself.
There were several concerns over Head's participation in the side before the game. The left-hander, however, fiercely defended his choice with a whirlwind knock.
Head entered the batting order when Australia was in the midst of a minor collapse, losing four wickets for only 29 runs. His counterattacking strike prevented England from reentering the game.
2 David Warner – 200 vs South Africa in Melbourne (2nd Test)
A special performance on a special day by a particular player. At the Melbourne Cricket Ground in December of last year, David Warner, who was playing the 100th Test of his career, blasted an amazing double century against South Africa.
Warner, who had been under a lot of stress coming up to the MCG Test due to a protracted slump in the format, batted valiantly against a ferocious Proteas pace attack. Usman Khawaja and Marnus Labuschagne were lost early in the batting, but Warner remained in control and produced some thrilling shots.
Warner was hurt before getting knocked out after Anrich Nortje's ferocious delivery struck him in the head. Warner remained unfazed as he pushed himself to reach 100, pounding the air when he did so with a boundary following a nearly faultless stroke.
After his century, Warner increased the stakes and sped to 200 off 254 balls before being dismissed by Nortje. As Australia declared with a lead of 389 runs and a score of 575/8, Alex Carey also struck his first Test century.
The hosts finally won the match by an innings and 182 runs after bowling out the Proteas on 204.
3 Usman Khawaja – 180 vs India in Ahmedabad (4th Test)
In addition to scoring 1,608 runs during the 2021–2023 WTC cycle, Usman Khawaja also hit as many as six hundred. Although he scored 180 runs in the first innings of the fourth Test of the Border-Gavasker series in India, his most stunning century came there.
With a 61-run opening partnership, Australia got things going nicely on a calm surface devoid of monsters. After scoring 32 runs, Travis Head lost his wicket, but Khawaja held up his end magnificently.
The Southpaw successfully navigated the Indian pacers while also scoring a few runs for himself. He continued to play the hosts' spinners off balance, punishing them when they dropped short and denying the nice deliveries, rarely veering from this strategy.
In the final over of Day 1, Khawaja hammered a magnificent century after reaching his fifty off 146 balls. The following day, Khawaja resumed his assault and added 76 more runs to reach 180. In Ahmedabad, it was hot and muggy when he faced 422 balls.
His contribution allowed Australia to score 480 runs in the first innings. With a total of 571, Team India responded, with centuries from Shubman Gill (128) and Virat Kohli (186). The contest was over.
4 Marnus Labuschagne – 204 vs West Indies in Perth (1st Test)
The greatest individual score by an Australian hitter in the WTC 2021–23 cycle was recorded by Marnus Labuschagne, the top-ranked Test batter in the world. This occurred in 2022 during his 204-run first innings of the opening Test match against the West Indies.
David Warner was lost early for Australia after choosing to bat first. Labuschagne then arrived and helped Usman Khawaja to steady the ship. Khawaja was ejected for 65 while Labuschagne persisted in his ruthless assault on the Caribbean bowling.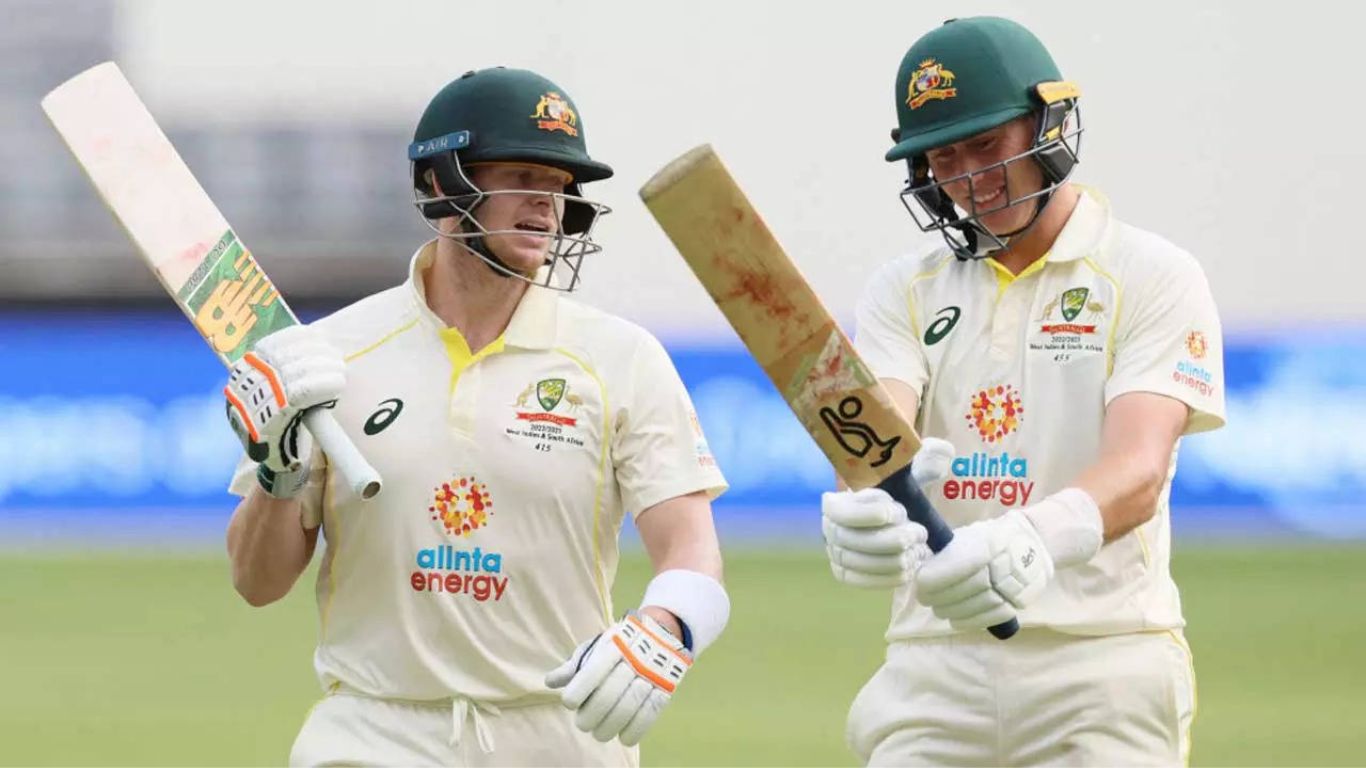 He earned a personal score of 154* at the end of Day 1. The right-hander carried on from where he left off the previous day, despite West Indies' desperate need for a breakthrough in hazy conditions that were favorable to swing bowling. He refused to stop adding to the travelers' suffering.
To get his double century, Labuschagne hammered fast bowler Jayden Seales through the covers for his 20th boundary. He fell behind, though, by 204. In 483 minutes of play, the 28-year-old batted and connected on 350 balls for six and 20 fours.
During the innings, Steve Smith added a double century, and Australia declared with a massive score of 598/4. Labuschagne hit another century in the second innings after taking a 315-run lead in the first.
In the end, Australia triumphed by 164 runs, and Labuschagne was rightfully named Player of the Match.
5 Usman Khawaja – 105 vs Pakistan in Lahore (3rd Test)
Only one Australian player scored 100 goals in a tough 1-0 victory over Pakistan away from home. Usman Khawaja, who is interestingly from a Pakistani family, was the player who made two centuries throughout the course of the three-match series.
Before getting another hundred in the pivotal third test in Lahore, he initially produced a magnificent 160 in the second test in Karachi. His innings of 105 turned out to be crucial in helping Australia win the series.
The visitors needed some significant runs on day four in order to win the match after taking a 123-run advantage after the first inning. Australia reached 227/3 in just 60 overs thanks to Khawaja's century, who extended his run-scoring frenzy throughout a stellar series in his own nation.
With four sessions left in the match, they made the decision to declare, giving Pakistan a target of 351. Australia bowled out Pakistan on the last day of Day 5 as the visitors easily won the series because to Nathan Lyon's outstanding five-wicket haul and Pat Cummins' three-wicket haul.
Khawaja received the "Player of the Series" title for scoring 496 runs across five innings at a staggering average of 163.5.
Read Also – How Has Virat Kohli Performed Throughout The Years In Significant ICC Finals?
Follow Us
[DISPLAY_ULTIMATE_SOCIAL_ICONS]