Ravindra Jadeja is one of the famous cricketers and basically, he is known best fielder in the world. Jadeja was born on 6th December 1988 and he is an all-rounder performer for India's national cricket team. Apart from this, he also plays Indian Premiere League (IPL) for CSK. Today, we will talk about His wife Rivabha Jadeja, and other things like Ravindra Jadeja's Wife's Instagram, political career, Photos, and Latest News. Let's have a look.
Ravindra Jadeja has a very fine record in international career as well as IN IPL. He is one of the most prominent players for teams India and CSK. Right now, He is in the limelight. Just because of his wife Rivabha Jadeja. You might have questions about why and what's the latest news regarding him and her. All the possible things related to Ravindra Jadeja and Rivabha Jadeja will be mentioned below.
Who is Ravindra Jadeja Wife Rivaba Jadega?
Rivabha Jadeja who was born on 2nd November 1990 is an Indian Politician and wife of famous Indian Cricketer Ravindra Jadeja. She is a member of the Gujarat Legislative Assembly from the Jamnagar North Assembly Constituency as a member of the Bhartiya Janta Party (BJP).
Firstly, Ravindra Jadeja met Rivabha at a party as she was a good friend of Jadeja's sister Naina at that time. Their engagement happened on 5th February 2016 at Jaddu Food Field, a restaurant owned by the cricketer. A few months later, the couple got married on the 17th of April.
Ravindra Jadeja Wife Instagram
Ravindra Jadeja's Wife Rivabha Jadeja is a socially active person. She has 1.3 followers on Instagram while she follows only 3 persons including Amit Shah, Narendra Modi & Royalnavghan. If we talk about Rivabha Jadeja's qualification background then she is well qualified. She has done engineering in B.E. Mechanical. In the upcoming segment, we will talk about her Political Career.
Ravindra Jadeja's Wife's Political Career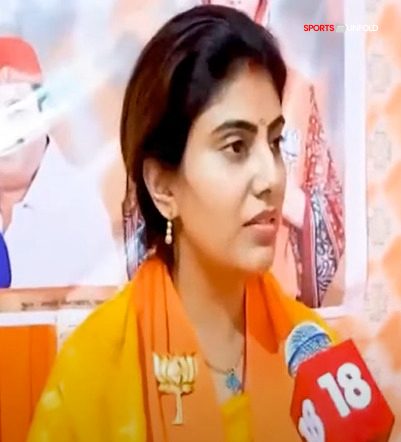 She started his career in Politics and She joined the BJP in 2019. Thereafter, She was elected on 8 December 2022. She won the Gujarat Assembly election from the Jamnagar North Constituency. Rivabha and Rivabha tied the knot on 17 April 2016.
Read Also – Who is Sunil Chhetri's Wife Sonam Bhattacharya? Everything About His Love Life
Follow Us
[DISPLAY_ULTIMATE_SOCIAL_ICONS]