The 2021–22 Indian Super League season will be the 8th season of the Indian Super League (ISL), the top Indian professional football league. Check ISL 2021-22 Point Table.
Mumbai City FC is the defending champions, having defeated ATK Mohan Bagan in the final. Mumbai City FC is also the defending winner of League Winners Shield. Thus, the team became the first club to win the ISL championship title as well as the premiers.
Indian Super League is a professional football tournament that will be rolling out the new season from November 19, 2021.
Check out the standing rules of the ISL 2021-22.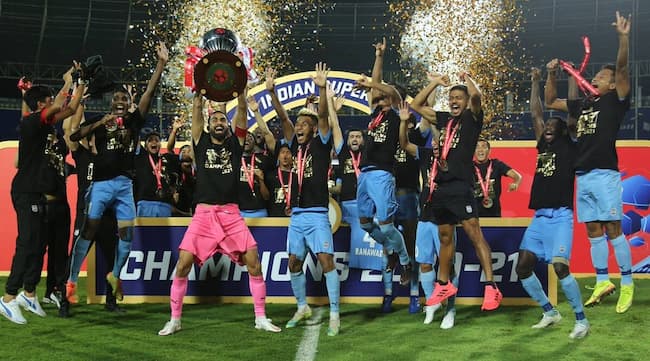 Changes in the ISL
A club can now sign maximum of six and minimum of four foreigners including at least one player who hails from an AFC affiliated nation.
A maximum of four foreigners can play on the field at any instant of a match.
A decrease in foreign player numbers from 5 to 4 mandates the clubs to have a minimum of seven 7 Indian players on the field at any point of time.
A club also has an option to sign a foreign marquee player within the League-approved classifications.
Clubs to increase their development player signing from minimum 2 to 4, while continuing to have 2 of such development players be part of the match-day squad.
A club can have a maximum squad strength of 35 players, with at least 3 registered goalkeepers. A club can also have an injury replacement for an Indian player (outside of the max. 35 registered players).
The squad salary cap remains at ₹16.5 crore (US$2.2 million) for season 2021–22.
ISL 2021-22 Point Table – Indian Super League
| | | | | | | |
| --- | --- | --- | --- | --- | --- | --- |
| Teams | P | W | L | D | PTS | GD |
| Mumbai City FC | 8 | 5 | 2 | 1 | 16 | 7 |
| Hyderabad FC | 8 | 4 | 1 | 3 | 15 | 11 |
| Kerala Blasters FC | 9 | 3 | 1 | 5 | 14 | 14 |
| ATK-Mohun Bagan | 8 | 4 | 2 | 2 | 14 | 2 |
| Chennaiyin FC | 9 | 4 | 3 | 2 | 14 | -2 |
| Jamshedpur FC | 9 | 3 | 2 | 4 | 13 | 4 |
| Odisha FC | 8 | 3 | 4 | 1 | 10 | -6 |
| Bengaluru FC | 9 | 2 | 4 | 3 | 9 | -2 |
| FC Goa | 9 | 2 | 4 | 3 | 9 | -5 |
| NorthEast United FC | 8 | 2 | 5 | 2 | 8 | -6 |
| SC East Bengal | 8 | 0 | 4 | 4 | 4 | -8 |
ISL 2021-22 Standing Rules
The final position of the Club in the league table (when all Clubs have played all their League Matches) is determined in this order:
Most number of points obtained in all league matches
2. If two or more Clubs are equal on the basis of the above criteria, their place shall be determined as follows:
– The most number of points obtained in the League Matches between the clubs concerned
– Superior goal difference resulting from league matches between the clubs concerned
– The most number of goals scored in the league matches between the clubs concerned
– Superior goal difference in all league matches
– The most number of goals scored in all the league matches
– Highest fair play ranking
– Drawing of lots by league
Follow Us
[DISPLAY_ULTIMATE_SOCIAL_ICONS]