Usain Bolt Top Speed World Record – Sportsunfold. In this article we are going to tell you about Usain Bolt's 100m, 200m, 4x100m sprint records, including world records and best performances at the Olympics and World Championships.
Usain Bolt Top Speed World Record – Sportsunfold:
1. Usain Bolt's 100m Records
Usain Bolt has made the 100m World Record on his name at the 2009 IAAF World Championships. The World Record was at 9.58 seconds and that is surprising. The Average ground speed of Usain Bolt was 37.58km/h but the top speed in the end of 60-80m stretch was 44.72km/h.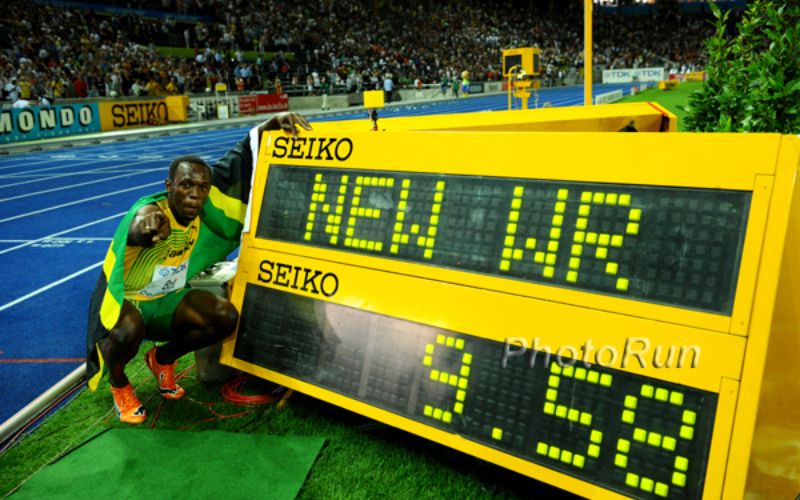 2. Usain Bolt's 200m records
The achievements in the 100m made Bolt a superstar. Bold dominated the Jamaican's pet event which was the 200m. Bolt was ready to set the 200m world record on his name in the 2009 World Championships. He won gold at the Jamaican and make a new record for 19.19 seconds.
3. Usain Bolt's 4x100m records
The Jamaican's team was winning the 4X100m men's replay from over the past three years and the reason behind their success is only Usain Bolt. At the London 2012 Olympics, the current 4x100m record in men's relay was set by the Jamaican team involving Usain Bolt, Yohan Blake, Nesta Carter and Michael Frater. The team recorded time was 36.84 seconds at the 2012 Olympics.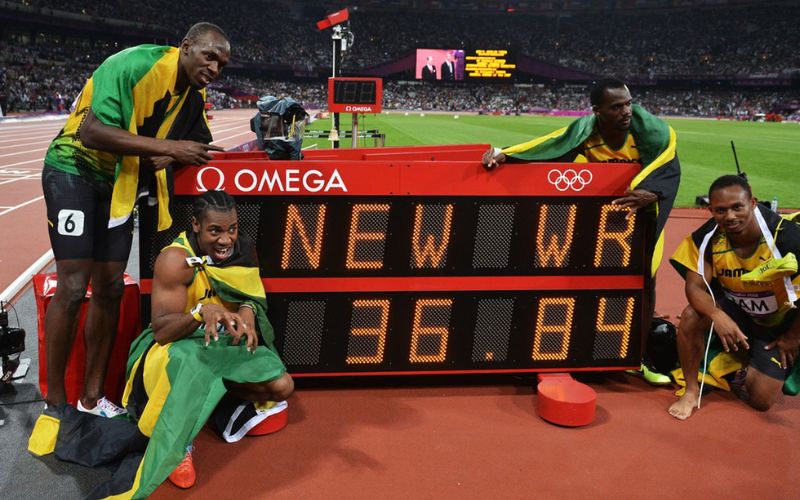 4. Usain Bolt at the Olympics
Bolt won the gold medals in the 100m and 200m in the Beijing 2008, London 2012 and Rio 2016 after the disappointing performance in the Athens 2004 Olympics. Bolt became the first sprinter after setting the 100m and 200m World Record at Beijing in 2008 and he also won the 4X100m gold medals except one that is Beijing medal in 2017.
5. Usain Bolt at World Championships
From 2009 till 2015, Usain Bolt won every 100m, 200m and 4X100m gold medals. Usain Bolt is the most decorated male athlete of all time at the World Championships with 11 gold medals.
Usain Bolt's records :
| Discipline | Time | Event |
| --- | --- | --- |
| 100 yards | 9.14s | 2011 Ostrava Golden Spike |
| 100m | 9.58s | 2009 IAAF World Championships |
| 150m | 15.28s | 2017 Nitro Athletics |
| 200m | 19.19s | 2009 IAAF World Championships |
| 300m | 30.97s | 2010 Ostrava Golden Spike |
| 400m | 45.28s | 2007 Kingston, Jamaica |
| 4x100m Relay | 36.84s | 2012 London Olympics |
| Medley Relay | 1m46.59s | 2006 Stockholm DN Galan |
| 4x400m Relay | 3m01.10s | 2004 Philadelphia |
Read Also – Usain Bolt Net Worth, Olympic Medals, Top Speed, Height, Record, Religion, Age, Retirement all you need to know
Follow Us
[DISPLAY_ULTIMATE_SOCIAL_ICONS]