Sudhir Won Gold Medal In Men's Heavyweight Para Powerlifting At CWG 2022!! Know How?
In CWG 2022, Indian para powerlifter Sudhir won the gold medal in the men's heavyweight category. This is a big achievement for Sudhir and India! Firstly, we congratulate Sudhir on his amazing feat and wish him all the best for future endeavors!
Although Sudhir opened India's parasport medal tally at the current Commonwealth Games by lifting 208kg at his first attempt and then lifting 212kg at his second attempt to score 134.5 points. Ikechukwu Christian Obichukwu from Nigeria won the silver medal with 133.6 points, while Mickey Yule won the bronze with 130.9 points.
Sudhir, who was ranked third in the official World Para Powerlifting world rankings for 2022 with the best lift of 214kg, won the Commonwealth Games gold medal with a record lift of 212kg. It was India's first parasport medal at Birmingham 2022, the country's eighth gold medal, and 22nd overall. India has eight gold medals, seven silver medals, and seven bronze medals.
What does Sudhir have said about his CWG 2022 achievements?
Sudhir's journey to the gold medal has been inspiring because Sudhir managed to break the 200kg barrier, where Jordan's Abdelkareem Mohmmad Ahmad Khattab holds the 250kg world record. Sudhir, on the other hand, made the best of the Games, thus creating a Commonwealth Games record.
"I absolutely thought I would win gold. My preparation was great and I thank Birmingham for that. The preparation was good, the weather was good and the crowd was great, fantastic," Sudhir said before claiming the gold medal.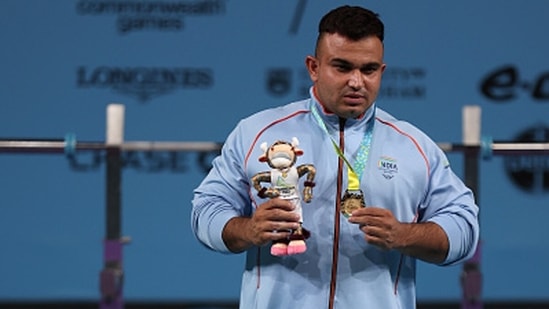 Sudhir said his immediate goal was to have a big celebration in London with lots of shopping. But first, he wants to prepare and compete for gold at next year's Asian Para Games, followed by the 2023 Paralympics in Paris.
"The next celebration for me is this: I'm going to London to enjoy shopping and see the city.
"My next goal is the Asian Games, and then the Paris Olympics (in 2024)," said the Indian weightlifter.
About the Sudhir and His Achievements
Sudhir, who started lifting weights in 2013 at Sonipat, has also qualified for the Hangzhou 2022 Asian Paralympic Games, postponed to next year.
The 27-year-old, a bronze medalist at the Asian Paralympic Games, is disabled due to the effects of polio. Polio did not prevent Sudhir from developing a lifelong interest in sports, eventually turning to weightlifting. He started his playing career in 2013. Three years later, he won a gold medal at his first National Games in 2016. His international debut was at the 2018 Asian Paralympics, where he won a bronze medal.  Sudhir works as a Senior Weightlifting Trainer for the Government of Haryana. In June, Sudhir won a bronze medal in the men's 88kg class with a best lift of 214kg at the World Para Powerlifting Asia-Oceania Open Championships held in South Korea.
Sudhir was praised by Narendra Modi on Twitter:
Narendra Modi praised Sudhir on Twitter for his achievement in the Commonwealth Games. Praising Sudhir's performance, Prime Minister Narendra Modi said: "Great start to Sudhir's 2022 CWG Para-Sports medal table! He won a coveted gold and once again showed his dedication and determination. He was consistent in the field. You did well. Congratulations and best wishes for all your upcoming endeavours."
On the other hand, congratulating Sudhir, Sports Minister Anurag Thakur said: "Another athlete from Haryana makes his mark on the world stage. Today, with a display of skill and spirit on the mat, you showed the world what champions are made of. "
Therefore, this is a proud moment for every Indian that Sudhir has brought a gold medal in Men's Heavyweight Para Powerlifting at CWG 2022. Sudhir's story is an inspiration to all of us. It shows us that nothing is impossible if we set our minds. We are sure that Sudhir will continue to make India proud in the future! Stay tuned with us to know more about CWG 2022!!